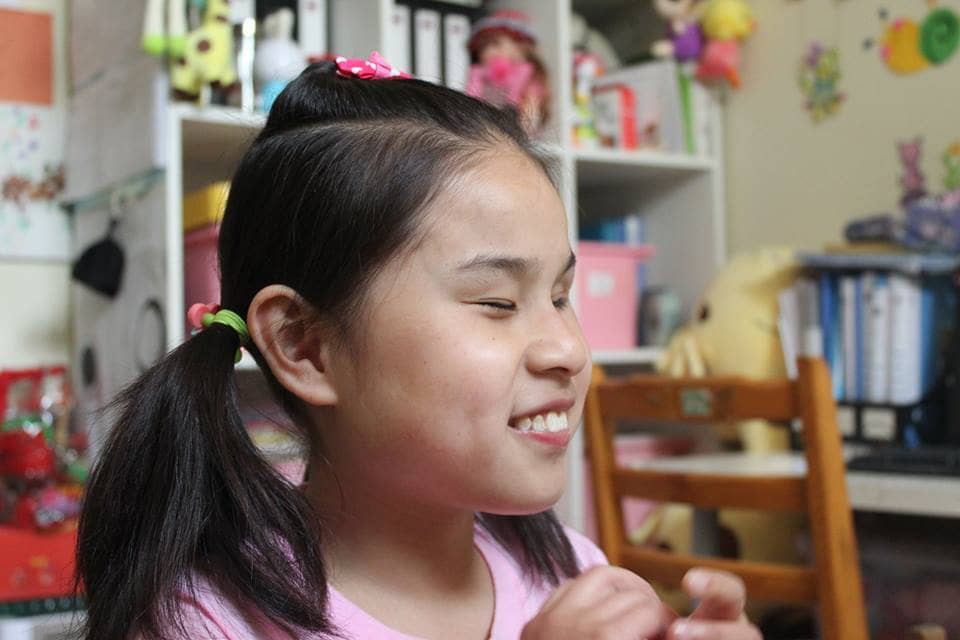 ---
To help advocate for this precious girl, HIAOM is offering a $2,000 grant towards Lizzie's adoption! She will age out of adoption eligibility next summer when she turns 14.
Lizzie is a sweet 13-year-old girl introduced to us by a friend that volunteered with Bethel China. She is probably on the autism spectrum and she has grown so much since coming to Bethel 9 years ago.
She can now get dressed by herself, go to the bathroom, she knows her schedule, and she knows the signs for more, bathroom, eat, take off your shoes, put on your shoes, and get dressed/undressed. On top of her great self-care skills, Lizzie is also very good at understanding people, and the roles they play in her life. She knows who to go for help, if she wants food, or needs to use the restroom. Her favorite thing is to be hugged and tickled. Though she is getting bigger, she loves to be picked up. One of Lizzie's latest achievements is figuring out how to communicate what she is feeling and what she needs.
Don't forget to check out the Federal Adoption Texas Credit to see if you're eligible to take advantage of $13,570 in tax credits available to adoptive families! Visit the Interactive Tax Assistant to see if you qualify.
Here I Am Orphan Ministries has adoption grant and loan opportunities available to assist with adoption fees for Christian families in Texas. This is a limited fund, and we restrict the use to Christian families in Texas because it is our desire to be able to support the children and families once the adoption is complete. If you or someone you know is interested in learning more about any of these children, please contact Brittany at brittany@orphanministries.com or 979-421-6471.
---
Lizzie is also available for an older child grant from Reece's Rainbow so please don't let finances stand in the way of adding this wonderful girl to your family!